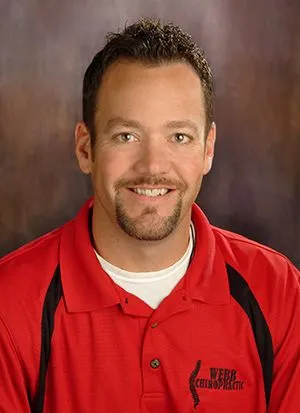 Dr. Brian Webb, D.C. has been helping people for nearly 10 years, the past 6 1/2 in Parker. Born and raised in Ogallala, Nebraska, Dr. Webb's family relocated to Littleton, Colorado. After graduating from Littleton High School, he enlisted in the U.S. Navy and, upon returning home from the Gulf War, pursued his undergraduate studies at the University of Colorado. He decided to pursue a career in the science of healing and graduated with honors from Palmer College of Chiropractic in Iowa (June 2002), receiving a Merit in Diagnosis.
Prior to graduation, he participated in a Humanitarian Chiropractic Clinic in Salvador, Brazil, which he found to be extremely rewarding, both personally and professionally. Becoming a Doctor of Chiropractic has allowed him the privilege of helping his patients by working in partnership with each one to ensure that they reach optimal health and wellness in all facets of their lives.
Dr. Webb practices a wide range of specific manual techniques designed to improve the function of joints and relieve pain, muscle spasm and irritation of the nervous system, and specializing in the diagnosis, treatment, prevention and rehabilitation of biomechanical disorders, particularly those involving the spine. In addition, he is fully credentialed in Active Release Techniques (A.R.T.) which is a hands-on-therapy used to correct conditions arising from overuse and repetitive stress injuries, and is trained in Cold Laser Light Therapy techniques and Lumbar Flexion Distraction techniques. He practices Pettibon Spinal Rehabilitation and is also certified by the Colorado Chiropractic Association and the Colorado High School Activities Association to perform pre-participation physical exams for Middle/High School athletes.
He is a member of the Colorado Chiropractic Association, and has been active in community activities, having served as a Board Member for the Parker Chamber of Commerce, and a Board Member for the Rotary Club of Parker. He also is very active in youth baseball and basketball programs as an Assistant Coach and Coach.
He and is wife, Jennifer, have three children (McKenna, Griffin & Brady) and he enjoys a multitude of family activities. He also sponsors and plays in a Men's Softball League in Parker.
His main goal in life is to help as many people as possible regain their health and wellness and reach their full potential.
"Changing Lives One Spine at a Time"